DON Chorizo & Beef Soft Shell Tacos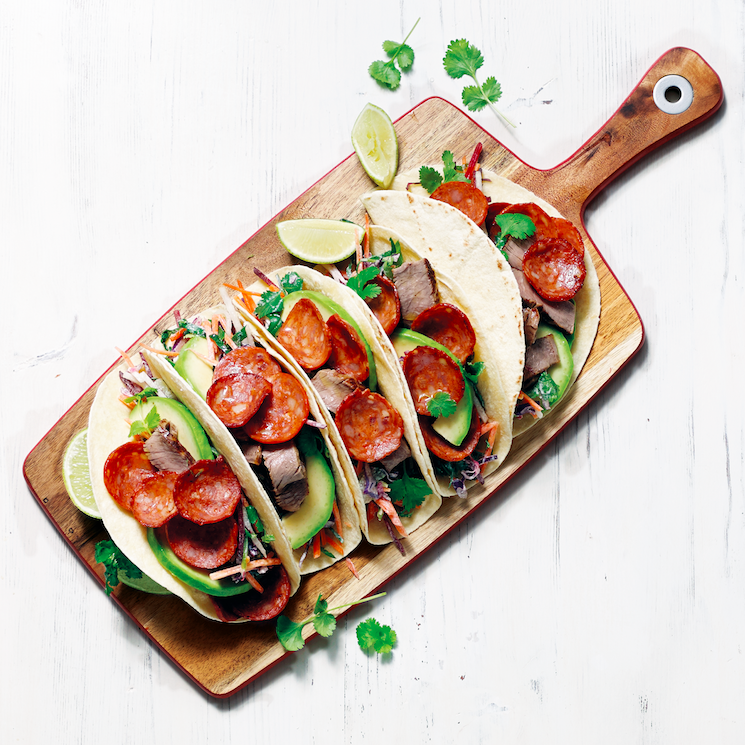 Overview
Prep

Ready in

Serves

4-5
Print
Ingredients
150g pouch DON® 'Just Add' Sliced Authentic Chorizo
10 mini tortillas or soft taco shells
400g rump steak
200g undressed coleslaw mix
1 avocado, cut into strips
200mL lite sour cream
3 limes, 2 juiced & 1 cut in wedges
½ bunch coriander, roughly chopped
Vegetable or olive oil for cooking steak
Salt & pepper to taste
Method
Heat oil in pan over high heat. Season the steak with salt & pepper. Add steak and cook to desired level of doneness. Once rested, cut the beef into ½ cm strips.
Combine the coleslaw mix, coriander and lime juice in a bowl.
Warm the tortillas or soft shell tacos as per pack instructions.
Warm the chorizo for 30 seconds in a microwave.
Build the taco with steak strips, chorizo slices, avocado, coleslaw mix and top with sour cream.
Serve with lime wedges.
Optional: For an extra kick, mix chilli sauce into sour cream.