Crafted Gin & Tonic Hotcakes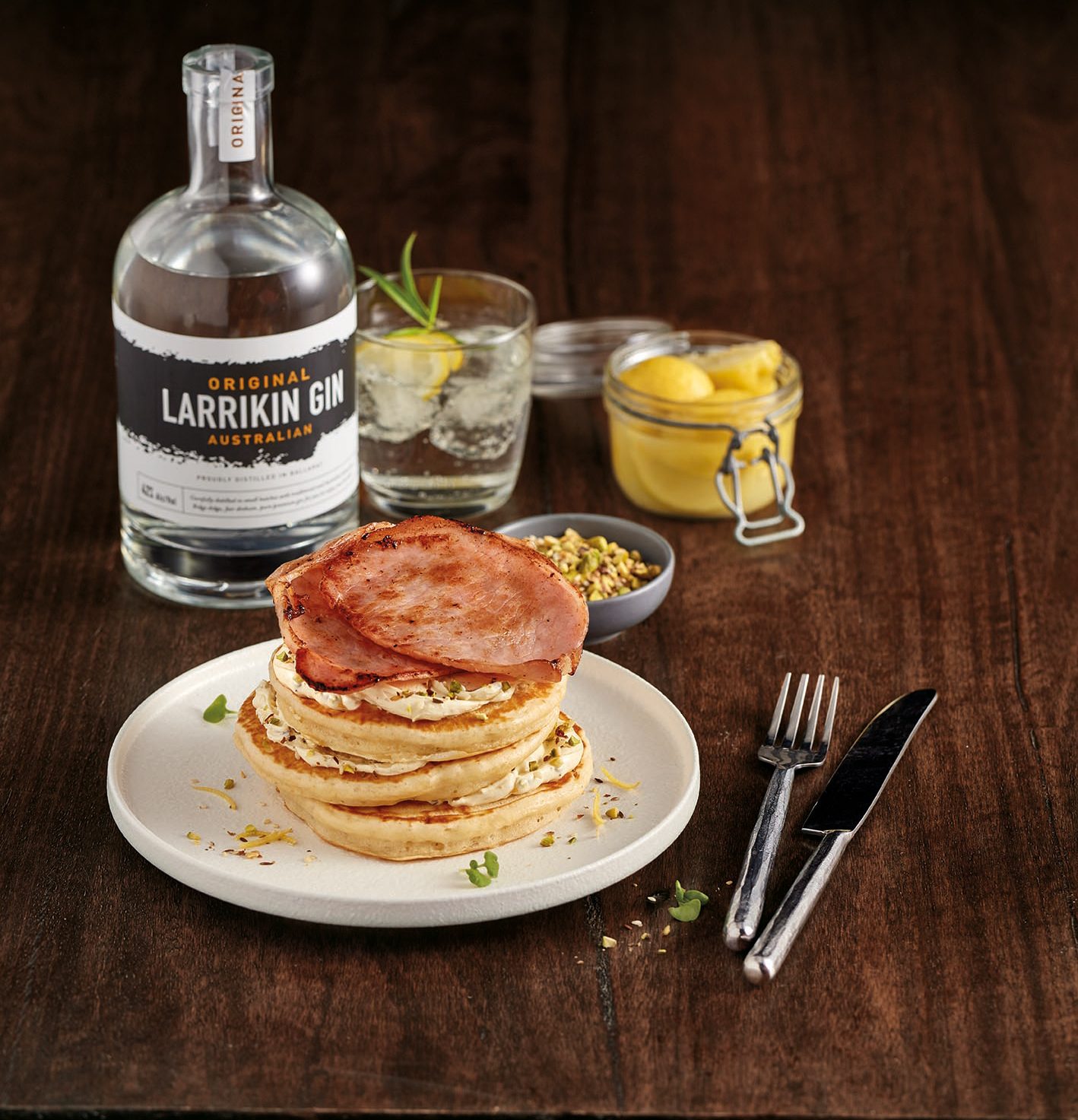 Overview
Serves

4 (makes 8 hotcakes)
Print
A classic re-imagined! Hotcakes made with tonic perfectly paired with DON Crafted Gin and Native Spice cured bacon. Topped off with Pistachio Dukkah & Preserved Lemon, now that's brunch!
Ingredients
Larrikin Gin Preserved Lemons:
4 medium lemons
200g coarse salt
½ cup lemon juice
¼ cup The Larrikin - Australian Gin
4 dried juniper berries
-
Tonic Hotcakes:
1 ¼ cups self raising flour
1 tsp caster sugar
Pinch baking powder
Salt flakes
1 cup tonic water
1 egg
¼ tsp finely grated lemon rind
Melted butter, for frying pan
½ cup sour cream
2 tsp pistachio dukkah
¼ tsp finely grated lemon rind
8 slices DON Gin with Native Spices Bacon
Method
For Preserved Lemons; cut each lemon into quarters from the top, leaving intact at the base. Add to a bowl with the salt, pressing salt into the centre of each lemon. Push lemons into a sterilised large jar, approx. 800ml capacity. Pour in the excess salt, lemon juice, Larrikin gin and juniper berries. Seal and set aside in a cool place for 4 weeks.
For Hotcakes; combine flour, sugar, baking powder and salt in a large mixing bowl. Whisk together the tonic water, egg and lemon rind in a separate bowl. Add to dry ingredients and mix well. Set aside.
Heat a large frying pan and brush lightly with butter. Cook ¼ cup measures of batter until golden and cooked through. Keep warm.
Heat a separate frying pan and cook DON Gin with Native Spice bacon slices until golden and crisp around the edges. Drain on absorbent paper.
Combine sour cream, dukkah and lemon rind. Set aside.
Serve hotcakes with sour cream mixture, crisp bacon, additional dukkah and shreds of preserved lemon peel.
If time does not permit to make lemons in advance, simply add 1 tablespoon of Gin to the hotcake batter for some divine G&T Hotcakes.