Prosciutto & Chorizo Paella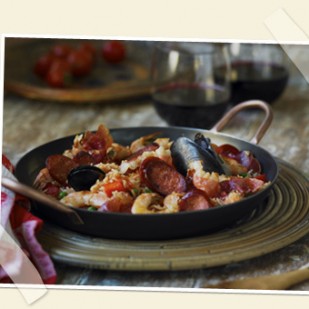 Overview
A twist on the Spanish favourite! The addition of prosciutto will please our fellow smallgoods lovers!
Ingredients
12 mussels
300g green prawns
200g sliced DON® Prosciutto roughly chopped into small pieces
300g cubed DON® Chorizo
1 onion, finely chopped (Spanish onion optional)
2 cloves garlic, crushed
Pinch cayenne pepper
1 red capsicum, chopped
1 green capsicum, chopped
1 cup long grain rice
1 × 400g can crushed tomatoes
2 cups chicken stock
1 cup frozen or fresh peas
Method
Scrub the mussel shells and remove the beards. Place into a large pan with ½ cup water. Cover and cook over medium heat for 5 minutes, shaking the pan occasionally. Discard any mussels which do not open in this time. Peel and de-vein the prawns, leaving the tails intact.
Spray a large non-stick frying pan with oil and heat. Add the prawns, DON® Prosciutto and DON® Chorizo and cook over high heat for about 2 minutes. Remove from the pan and set aside.
Add the onion to the pan and cook over medium heat for 3 minutes or until soft. Stir in the garlic, cayenne, capsicum and rice, and cook, stirring constantly, for a further 2 minutes.
Stir through the tomatoes, and chicken stock. Bring paella to the boil then reduce the heat to very low and cover tightly. Cook for 20 minutes, or until the rice is just tender and the stock is almost all absorbed.
Add the peas, prawn, chorizo and prosciutto mix and mussels to the rice, and very gently stir through. Cover and cook for a further 3 minutes or until heated through. Serve immediately.