Heirloom Tomato & Ricotta Salad with DON Ready Bacon
Simon Cosentino is the co-owner and chef of deli and eatery, Via Porta, in Melbourne's east. Along with his four siblings, Simon is proof that a family's passion for food and playing to each other's strengths is a recipe for success. Having grown up in a big Italian family, and now dishing up delicious meals just like Nonna used to make, Simon's philosophy in the kitchen is all about taste and keeping things simple. His heirloom tomato salad with ricotta and DON® Ready Bacon is no mess, no fuss, so you can spend more time appreciating the special moments. Buon appetito!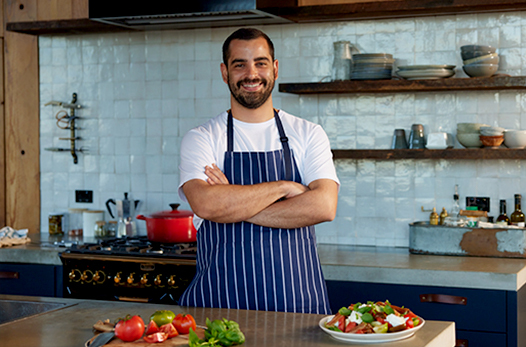 Overview
Prep

Cooking time

Serves

4
Sometimes simpler really is better, and this no fuss salad by Simon Cosentino (Via Porta) is just as Nonna would have wanted. With its juicy heirloom tomatoes, freshly whipped buffalo ricotta and burnt onion vinaigrette, all topped off with DON® Ready Bacon, this recipe will transport you straight to southern Italy, giving you more time to enjoy it with the people that you love.
DOWNLOAD RECIPE
PRINT RECIPE
Ingredients
Dressing:
1 tbsp olive oil
1 white onion, finely diced
50g dijon mustard
50ml sherry vinegar
300ml extra virgin olive oil


Whipped Ricotta:
100g buffalo ricotta
Extra virgin olive oil


Salad:
800g heirloom tomatoes
60g pkt DON® Ready Bacon
Basil leaves, for garnish
Method
For the dressing; in a heavy based saucepan place the tablespoon of olive oil and diced onion. Cook on a low heat until the onion starts to turn dark brown almost black in colour. Once the onion is cooked, place in a bowl and refrigerate until it is cool.
In a separate bowl whisk the mustard and vinegar, slowly adding the olive oil until it emulsifies. Mix in the burnt onion.
For the ricotta; place ricotta in a food processor with a dash of good quality extra virgin olive oil and season with a pinch of flaked salt and a little black pepper. Process the ricotta for a couple of minutes until you achieve a smooth and shiny consistency. Alternatively, if you do not have a food processor, place the ricotta in a bowl and use a whisk to mix until smooth.
Wash the tomatoes and slice into rough sized pieces. Place into a large mixing bowl and mix with a few spoonfuls of the dressing, some salt flakes and freshly ground black pepper. Tip onto a serving platter and spoon dollops of whipped ricotta over the tomatoes. Drizzle with remaining dressing, sprinkle with basil leaves and break the Ready Bacon into pieces and scatter over the salad. Enjoy with some crusty bread.

Notes: If you can't access buffalo ricotta, use regular fresh ricotta in its place.