Penne Arrabiata with DON Mild Hungarian Salami
With Italian and Indian heritage, Adam D'Sylva was 'born into food'. Growing up making salamis, curries and other aromatic dishes, he believes when food is cooked with love, you can taste the difference. Having worked across some of Melbourne's best restaurants, Adam's culinary experience is as magnificent as the dishes he creates.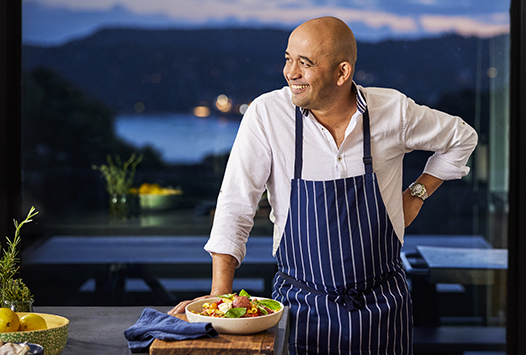 Overview
Prep

Cooking time

Serves

4
Featuring that iconic flavour of DON Mild Hungarian Salami – this Penne Pasta Arrabiata is ready in a flash and will be devoured even quicker. After cooking the penne in salted water, whip up a show-stopping sauce using fresh tomatoes, garlic, chili, thyme and basil leaves. Cut 200g of DON Mild Hungarian Salami into rounds and fry until crispy. Finish with beautifully marinated feta and crispy 'salami chips', and you'll be ready to dig in.
DOWNLOAD RECIPE
PRINT RECIPE
Ingredients
500g good quality penne
Table salt for pasta water
200g DON Mild Hungarian Salami chub, slice ⅓ into thin rounds, chop remainder
150ml olive oil
4 birds eye chilli, sliced finely (optional)
5 cloves garlic, chopped
2 punnets heirloom cherry tomatoes, halved
Thyme sprigs, picked and chopped
1 cup basil leaves, plus extra for serving
Sea salt and freshly ground black pepper, to taste
Marinated goat feta, for serving
Method
In a large pot of boiling water, add salt to taste like the sea. Add penne and cook until just tender.
Whilst pasta is cooking, bring a frying pan to the heat, add salami rounds and cook until crisp, set aside.
Using the same pan, add oil and sauté chilli and garlic until aromatic. Add the chopped salami, tomatoes and thyme. Allow to cook down a little, then spoon in approx. 1 cup of the pasta water and allow to heat through.
Strain pasta and return to pot. Add the tomato mixture and mix well over a medium heat. Fold in basil and freshly cracked black pepper.
Serve pasta, topped with the crisp salami rounds, more basil and marinated goat feta.
Notes: If you don't have access to marinated goat feta, tear some baby bocconcini balls in half.