Vietnamese Lemongrass Salad with DON Oven Roasted Pork Loin
Jerry Mai is a Vietnamese-Australian chef passionate about doing things the right way and keeping things simple, homely and playful in the kitchen. Drawing on her roots, Jerry's dishes are jam-packed with fragrant, aromatic herbs such as mint, ginger and chilli, with influences from across Asia and beyond.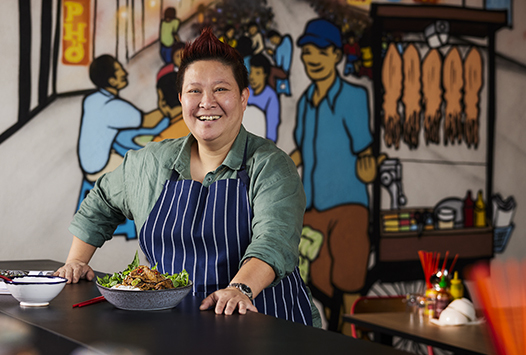 Overview
Prep

Cooking time

Serves

1
This recipe dishes up a modern take on a Vietnamese classic. Keeping it simple with some oyster sauce, kecap manis (sweet soy sauce), a dash of sesame oil and sugar, simply add 100g of our deliciously herbed and roasted DON<sup>®</sup> Crafted Cuts Oven Roasted Pork Loin and bring to a sizzle. The meat's authentic flavour gives the dish that instant deli-touch. Adding vermicelli noodles and some vibrant greens, finish off with fried shallots.
DOWNLOAD RECIPE
PRINT RECIPE
Ingredients
Nuoc Mam Dipping Sauce:
⅔ cup caster sugar
200ml warm water
2 cloves garlic, finely minced
2-3 birds eye chilli, finely chopped
150ml fish sauce


Stir Fry Sauce:
2 tbsp oyster sauce
1 tbsp light soy sauce
1 tbsp kecap manis
½ tbsp caster sugar
1 tsp sesame oil
1 clove garlic, finely minced


Vermicelli Salad:
50g vermicelli noodles, cook to instructions on packet
¼ cup bean shoots
¼ cup salad mix
½ small Lebanese cucumber, cut into strips
2 sprigs mint, picked and washed
2 springs Vietnamese mint, picked and washed
1 tbsp veg oil
1 small onion, peeled cut into wedges
1 tbsp minced lemongrass
6-8 slices Don Crafted Cuts - Oven Roasted Pork Loin
2 spring onion, washed and cut 3cm lengths
½ tbsp fried shallots
Method
To make the nuoc mam dipping sauce, in a bowl add the sugar and warm water and stir until the sugar dissolves then add remaining ingredients. Give it a good stir and set aside.
Next, make the stir fry sauce by combining all the ingredients in a bowl and mixing together until sugar dissolves. Set aside.
In a serving bowl start putting the salad together, bean shoots on the bottom then cooked noodles, salad, cucumber and herbs.
Place a wok or fry pan over high heat, wait until the wok is hot and smoky then add the oil. Moving fairly quickly and making sure you are constantly moving the ingredients in the wok add the onion wedges and lemongrass, cook for 30 seconds then add the roast pork and cook a further 30 seconds. Add the stir fry sauce and spring onion and cook for 1min.
The pork should be a little caramelised and should have a little sauce. Place the pork on top of the salad and garnish with fried shallots. Serve with the nuoc mam on the side and people can add as much or as little they would like to the salad.
Notes: Kecap manis is readily available at your local supermarket.